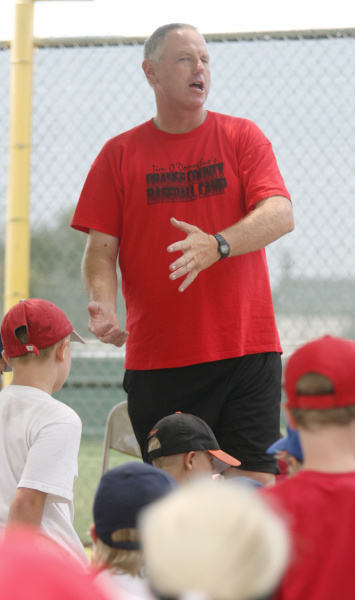 Dear Baseball Families,
Welcome to the 26th summer of the Orange County Baseball Camp. Each year the camp continues to grow and gain a reputation as the best value for your dollar. Don't be fooled by camps that charge more than twice as much! Every year we get comments from kids and parents alike that the players learned more at the Orange County Baseball Camp than the other camps they attended and they had a lot more fun.
We have always kept the camp affordable so that all kids can attend. Just because the price is lower doesn't mean you have to sacrifice quality. The goal for the week is to have fun while learning and improving baseball fundamentals. I personally schedule every single minute of the camp so I can guarantee that your son/daughter will learn a great deal about baseball – whether they are a "veteran" or a "rookie".
My camp coaches all know the game of baseball. Most have either coached or played for me in the past. I try to get a good mix of experienced high school coaches along with current or recently graduated Varsity players because of their enthusiasm and love for the game.
Most importantly, please rest assured that your child will be in reliable hands while at the camp. My background as a school principal, teacher and coach helps me create a positive atmosphere where kids can learn and have a great time.
Should you have any questions or concerns arise during the camp, please feel free to contact me immediately. I look forward to seeing you this Summer!
Sincerely,
COACH O'D