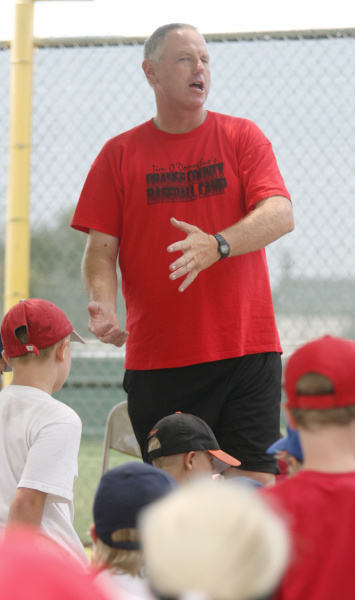 Dear Baseball Families,
Welcome to the 23nd year of Tim O'Donoghue's Orange County Baseball Camp! I take great pride in this camp and have thoroughly enjoyed running it over the years. I work with kids as a school principal and youth coach, but the summer camp is my favorite time of year. I love seeing the kids playing and having fun.
It certainly has been different this spring with the COVID-19 impacting all of our lives. During this quarantine period I think we have all come to see the important role youth sports play in our kid's lives—physically, socially, and mentally.
I seriously doubted that we would be able to hold our camp this year. Just this past week, youth and high school sports have been allowed to resume with appropriate safety precautions. OBVIOUSLY, EVERYONE'S HEALTH AND SAFETY IS MOST IMPORTANT!
I have always made safety the highest priority at the camp and will continue to do so this year following the guidelines established by the C.D.C. and the O.C. Health Care Agency.
The camp structure this year will be different to help with social distancing. Camps will be 3 hours in duration to avoid large crowds at lunch and with the swimming pool. Camps will be 8 to 11 am OR 2 to 5 pm and run Monday thru Thursday. Just to clarify, the morning and afternoon sessions are considered different camps. A player can sign up for both the morning and afternoon sessions but we will be using the same practice plan for both sessions. As in the past, several stations will be switched up for the second week of camp in July. I know many parents work, and I apologize that we are not able to offer a full day camp this summer.
Baseball is a sport that lends itself to social distancing. The reality is that the kids are in small groups with their teams the vast majority of the time. With that being said, I will make the necessary adjustments to promote spacing….for example assigned seating for games and have multiple locations where the kids line up with their teams.
Even though there is plenty of space on the fields, I want to limit the number of kids each session to about half of what we normally have. This will help make sure things are running safely and smoothly with the new added protocols. When a session is full players will have to register for a different session. Registration will be on a first come first serve basis. WALK UP REGISTRATIONS WILL ONLY BE TAKEN IF THERE IS ROOM. WALK-UPS WILL BE CASH ONLY.
Attached is some important information to review along with the camp sign up form. If you have any questions or need any further information please feel free to email us at info@ocbaseballcamp.com or call us at (714) 832-5961.
Sincerely,
COACH O'D